Before you can learn to drive you must be 17 years old and the holder of a valid provisional driving licence.
To apply for your provisional driving licence, you must complete the application form D1 that is available from the Driver and Vehicle Licensing Agency (DVLA) on-line form ordering service or Post Office branches. You will need to enclose original documentation confirming your identity, a passport style colour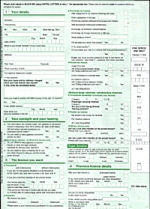 photograph and the current fee. Send your completed application and payment to DVLA, Swansea, SA99 1AD.

If you don't want to send your identification through the post, then you can apply for your licence in person at a Post Office using their premium checking service. For a small charge staff at the Post Office will check your application and ID while you wait, return your ID to you and then have the application sent to the DVLA.

The identity required and accepted by Post Office branches are:
Current UK passport

Department for Work and Pensions (DWP) State Retirement Pension order book

Proof of receipt of State Retirement Pension (a bank or building society statement received within the last three months)

Proof of eligibility to State Retirement Pension letter (BR2102, BR2103 or BR2199)
If you are the holder of a UK digital style passport, which has both your photograph and signature on the same page, then you can apply for your first provisional driving licence on-line using the Government's GOV.UK website. Further information on this service can be found here.

DVLA aim to deliver your driving licence to you within three weeks of receiving your application. It might take longer if they have to check on your health or personal details. You will need to wait for your new licence to arrive before driving.