Study Materials
Preparing for your theory test need not be a chore! Save money with our range of exclusively priced study packs to suit your needs. Available ONLY from your instructor, each consists of two invaluable publications; "Know Your Traffic Signs", a comprehensive paperback which illustrates and explains the vast majority of traffic signs that the road user is likely to encounter, and "The Highway Code", essential reading containing the most up-to-date advice on road safety and the law.

Complementing these are a choice of two other titles depending on your preferred method of study:

Study Pack 1
includes all of the official theory test questions on PC DVD-ROM enabling you to study and sit mock theory tests. Additionally, it contains 10 official Driver & Vehicle Standards Agency (DVSA) Hazard Perception sample videos and over 300 additional interactive hazard perception clips to prepare you for the test.
Price: £27.00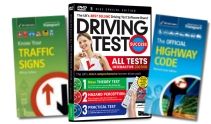 Study Pack 2
provides the same question bank and 190 hazard perception clips on 3 interactive DVD's. Also included are over 60 video lessons to revise and refresh the driving skills taught to you by your instructor.
Price: £29.00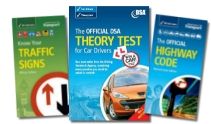 Study Pack 3
is intended for those who prefer to read the official book which includes all of the car theory test questions and explains the answers. Written by the Driver & Vehicle Standards Agency (DVSA), the people who set the tests.


Price: £28.00
For additional knowledge and practice, a range of further study materials are also available:


Hazard Perception - PC DVD-ROM
Packed with over 400 unique video clips that teach the principles of hazard perception and test your ability to spot potential dangers on the roads, this is the ideal way to prepare for the Hazard Perception part of your driving Theory Test.
Price: £26.00


Driving: The Essential Skills
This official DVSA guide will help you acquire and maintain the skills necessary to keep you safe on the road. Updated to include the very latest information on Eco-Safe driving and avoiding congestion. Fully illustrated and written in a clear, easy-to-understand style by the UK's top driving experts.
Price: £18.00

Please Call or Complete our Enquiry Form for Prices and Further Details