On the Day
Well your big day has finally arrived! We will pick you up about 1½ hours before your test to commence a final "brush up" of your driving skills before arriving at the test centre in plenty of time for you to prepare yourself and ask any last minute questions.
What to Bring
You should make sure that you bring the following documents with you to the test centre. Failure to do so may mean your test is cancelled and you may lose your fee.

The booking letter or email
Your UK provisional driving licence
Your theory test pass certificate
If you are the holder of the old style paper licence then you will need to bring your passport as photographic proof of identity.
At the Time of Your Test
The Examiner will call your name and ask you to sign the insurance declaration. This gives the Examiner the opportunity to check you signature against your provisional driving licence and validate your theory test certificate. If you do not hold a new style licence, the Examiner will ask for your passport to confirm your identity.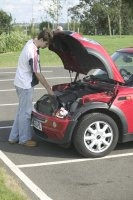 If you are exempt from wearing a seatbelt on medical grounds then you should show your exemption certificate.
To the Car
When the formalities are over the Examiner will introduce himself and ask you to lead the way to your car and identify it. It is at this point that a random vehicle will be chosen for the eyesight test to be conducted. Once read, you will then be asked one vehicle check question often referred to as "Show Me/Tell Me" questions. Upon successful completion of this, the Examiner will walk around the car recording the make, model and registration details as well as checking its road worthiness. Once happy with the vehicle, the Examiner will join you in the car and ask you to "Follow the road ahead unless traffic signs direct you otherwise or unless I ask you to turn, in which case I will give you the instruction in plenty of time. Drive on when ready please".
You're Off!
Check the handbrake is applied, the car is in neutral and start the car. Remember your training and drive as you have been taught! Give the Examiner a demonstration of your skills. During the drive the Examiner will be recording any minor driving faults on the test form (DL25). You may commit up to 15 of these and pass however one serious or dangerous fault will result in failure. Whilst on the move you will be asked a further Show Me/Tell Me question, and for around 20 minutes of your test, the Examiner will ask you to drive independently following either road signs or using a sat nav. You will be asked to carry out 1 of the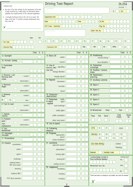 following 4 manoeuvres:

Parallel park
Forward park into a parking bay and reverse out
Pull up on the right-hand side of the road, reverse for around 2 car lengths, and rejoin the traffic
Reverse into a parking bay at the test centre
You may also be asked to carry out an emergency stop exercise.
At the End of the Test
When the driving test is over, the examiner will tell you whether you have passed or failed. If passed, you will be given the pass certificate (DSA10) which will need signing and sending to the DVLA along with your provisional driving licence in order for your full licence to be issued. If you hold a licence issued after 1st March 2004, then the Examiner will keep your provisional driving licence and forward it to the DVLA on your behalf. Should you be unsuccessful then you can request feedback on your test from the Examiner, who will then go through your performance during the test. You will be asked if you wish your instructor to listen to the Examiners review. We strongly recommended that you do allow this.

Useful Tips
There is no magic formula for passing your practical driving test, but here is some good advice which will certainly be helpful:.

Get a good nights sleep before the test
Dress comfortably, make yourself feel good
Arrive in plenty of time You should be present in the test centre at least ten minutes before the appointed time of your test. If you are late the test will be cancelled, and the fee will be forfeited.
Listen carefully to the examiner's instructions, repeat them in your head, act on them in good time, and ask for them to be repeated if necessary
Give the examiner a relaxed smooth drive
If you make a decision that you think could be misjudged by the examiner, explain your reasons while you drive
If you come across a new situation, hold back and assess it carefully before you decide to proceed - and be prepared to change your decision if necessary
And above all, enjoy the experience!