The driving test was initially introduced in the United Kingdom in 1935.

During the intervening years several amendments have been made to the test to keep it up-to-date and make it relevant to producing drivers capable of being safe road users in the 21st century. The driving test is straightforward and has been designed to see if you are able to demonstrate consistent safe driving observing the Highway Code.
What's Involved?
The test will last about 40 minutes and consists of three parts:

Eyesight check
Vehicle safety checks
Driving ability
Eyesight Check
The test starts with an eyesight check (if you fail this, your test will not continue). The eyesight test requires you to read a number plate that is a certain distance away. The distance requirement for the old-style number plate is 20.5 metres (about 67 feet) and 20 metres (about 66 feet) for the new-style number plate. New-style number plates were introduced on 1 September, 2001 and are easily identifiable because they start with two letters ie AB51 ABC.
Vehicle Safety Checks
After the eyesight test you will be asked one of the vehicle safety check questions, often referred to as "Show Me/Tell Me" questions. These are basic safety checks that a driver should carry out to ensure the vehicle is safe for use. Although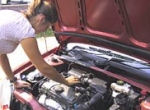 some checks may involve the candidate in opening the bonnet to identify where fluid levels would be checked, pupils will not be asked to touch a hot engine or physically check fluid levels. As vehicle technology advances, more and more vehicles are being equipped with electronic diagnostic systems, which inform the driver of the state of the engine fluid levels and tyre pressures. It will be acceptable for a candidate to refer to the vehicle information system (if fitted) when answering questions on fluid levels or tyre pressures. You will be asked a second question whilst on the move. One or both questions answered incorrectly will result in one driving fault being recorded.
Driving Ability
During the driving test the Examiner will give you directions which you should follow, and for around 20 minutes you will be asked to drive independently, following either road signs or using a sat nav. Test routes are designed to be as uniform as possible and will include a range of typical road and traffic conditions. During the test, the Examiner will ask you to carry out set exercises incorporating one of the following reversing manoeuvres:

Parallel park
Forward park into a parking bay and reverse out
Pull up on the right-hand side of the road, reverse for around 2 car lengths, and rejoin the traffic
Reverse into a parking bay at the test centre
You may also be asked to carry out an emergency stop exercise.

You can make up to 15 driving faults and still pass the test (16 or more will result in failure). However, if you commit one serious or dangerous fault you will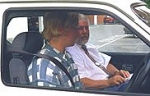 fail the test. If at any time your Examiner considers you to be a danger to other road users your test will be stopped.
At the End of the Test
When the driving test is over, the Examiner will tell you whether you passed or failed. You can request feedback on your test from the Examiner, who will then go through your performance during the test. You can invite your instructor to attend this debrief if you wish.